More info
Spillage emergency in the kitchen? No need to set everything down to wipe up the mess, Easy-Tear REF: features an upright tearing blade so you can use the edge to rip off your kitchen roll. It also has a heavyweight, non-slip base to keep it in place as you use it and provides excellent resistance when each sheet is pulled.
Easy-Tear REF: fits a variety of kitchen towel sizes and ensures the roll is always kept in place no matter how many sheets are left.

The top of the tearing blade also provides an easy way to carry Easy-Tear REF: so you can take it to the site of the spillage.
Manufacturer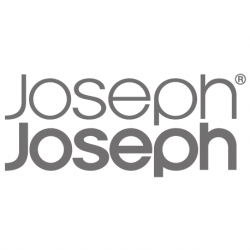 Twin brothers Richard and Antony Joseph founded Joseph Joseph a decade ago in 2003.Specialising in contemporary kitchenware, Joseph Joseph is now internationally recognised for producing some of the most stylish and technically innovative products available, and has become one of the fastest growing companies in the worldwide homewares market. Their unique ability to match form and function has earned them global recognition for their multi-award-winning designs.