More info
- The elegant porcelain container and the wood elements, interpreted by Wanders as stylised leaves, transform these simple objects into
original ornaments that combine the function of fragrance diffusion with a stylish, delicate form. - The intensity of diffusion can be increased in two ways. The element that holds the mahogany leaves only allows three at a time to come into contact with the essence. Once these are impregnated, they can be swapped for the dry leaves to allow these to start diffusing the fragrance too. The base of the diffuser is also designed to rotate. Thanks to its pleasantly rounded shape, a gentle touch is all that is needed to start the base turning, allowing air to pass through the leaves and diffuse more fragrance in the room. - The perfume will be released for an estimated 8/10 weeks. For optimal use, we recommend switching around the leaves in the support separator every 4/6 weeks.
Manufacturer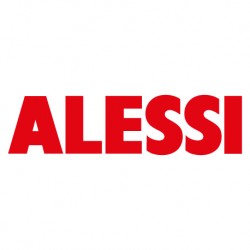 Alessi is the brand of kitchenware that has created some of the most outstanding objects of our daily day. Founded in 1921, Alessi has always stood out for the high quality of its products and the modern minimalism that adds a contemporary touch to any space. Alessi has remained at the forefront of design and innovation, and continues to work with the most important designers of today, and is currently considered the Italian Design Factories.