Blondie, cold blonde, beer or just a cold one. There are many nicknames for beer, one of the oldest drinks in humanity. Today is the International Beer Day! Are you a fan?
Widely consumed during the hottest months of the year, we would like to give a suggestion to combine this drink with a delicious chicken!
Do you dare? Grill a delicious chicken while enjoying your favorite beer. Keeping the meat juicy and the skin crispy, the beer will infuse a mild flavor, complementing and enriching your recipe.
Bacon Beer Can Chicken:
Serves 2-4
Prep: 15 Minutes, Cook: 1 Hour, 30 Minutes
Ingredients:
For the chicken
1 whole chicken, 3 to 5 pounds
1 can lager beer
4 to 6 bacon strips
For the dry rub
2 teaspoons brown sugar
1 teaspoon salt
1 teaspoon smoked paprika
1/2 teaspoon black pepper
1/2 teaspoon chili powder
1/2 teaspoon garlic powder
For the beer barcecue sauce
1 cup ketchup
1/2 cup lager beer
1/2 cup brown sugar
1 tablespoon molasses
3 tablespoons white vinegar
2 teaspoons Worcestershire sauce
1/2 teaspoon garlic powder
1/2 teaspoon salt
1/2 teaspoon black pepper
Preheat your grill to 160°C using indirect heat.
Open a can of lager beer and pour half into a deep-dish pan. Set the can in the center of a beer can chicken rack and lock it in place. Place the rack in the center of the deep dish and slide the whole chicken, leg side down, over the can of beer.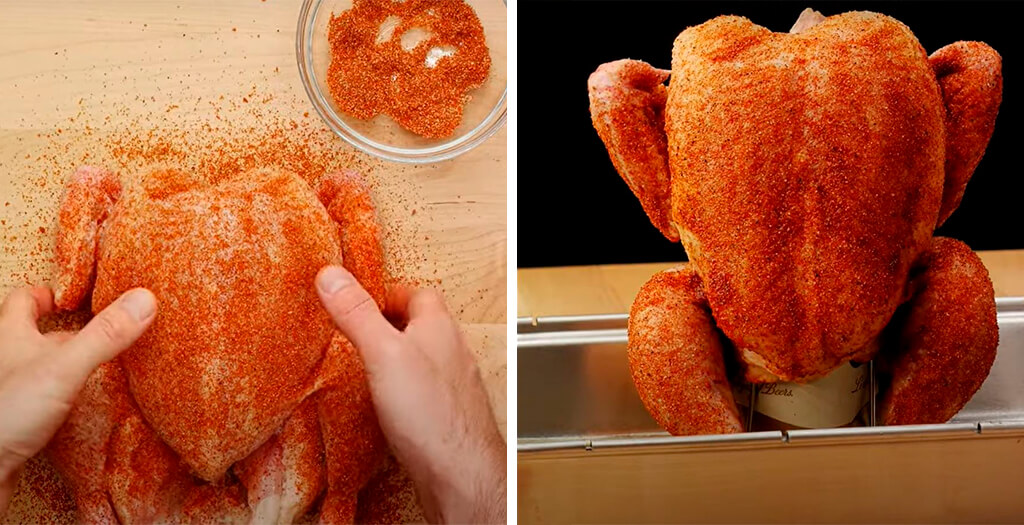 In a medium-size bowl, combine brown sugar, salt, smoked paprika, black pepper, chili powder and garlic powder. Mix with your hands to ensure there are no lumps. Season the chicken on all sides with the dry rub.
Insert one end of a bacon strip into the chicken's top cavity and let the strip hang down over the chicken's breasts. Cover the chicken's breasts completely with 4 to 6 bacon strips.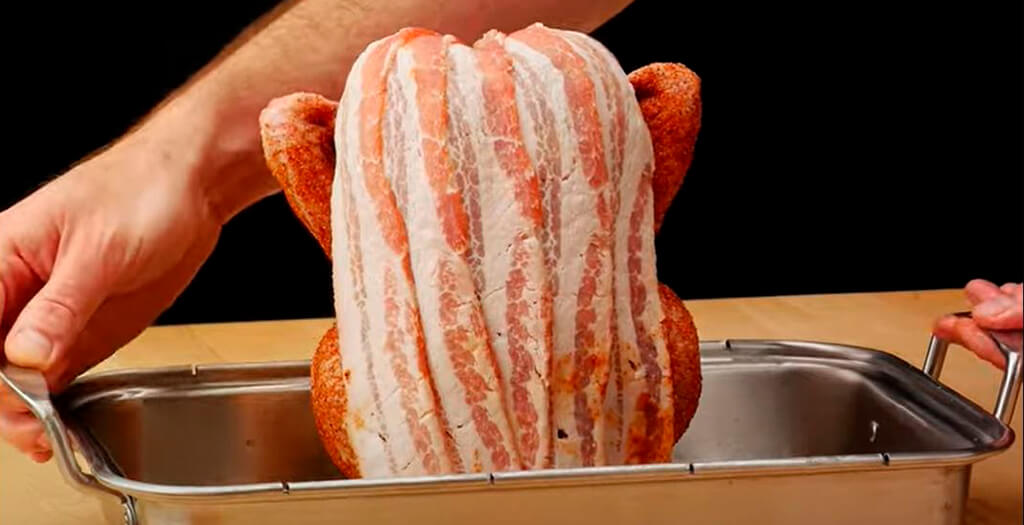 Place the standing bacon beer can chicken over indirect heat and close the lid. Cook until the internal temperature of the bird reaches 80°C on an instant read thermometer, 1 1/2 to 2 hours.
While the chicken is cooking, combine ketchup, beer, brown sugar, molasses, vinegar, Worcestershire sauce, garlic powder, salt and pepper in a saucepan. Simmer for 10 minutes.
Brush the chicken with the beer barbecue sauce 20 minutes before the chicken is done.
Remove from the grill and let rest at room temperature for 10 minutes.
Carefully lift the chicken off the beer can and slice.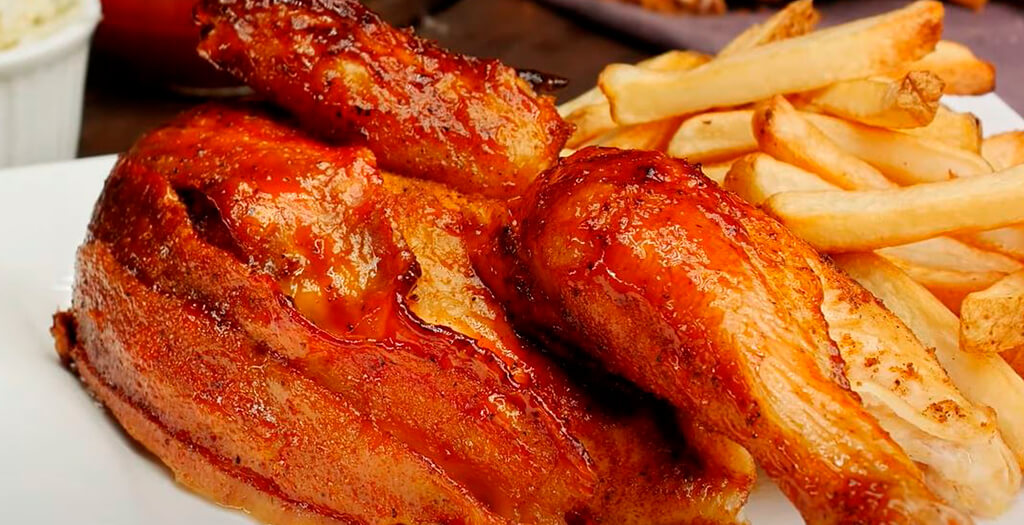 Serve with sauce, some french fries and enjoy!
Let yourself be inspired!