More info
Barbecue for charcoal and wood in tubular steel car. It´s characterized by the ease of assembly and the special coating for a more lasting color.
Ash tray, which facilitates its cleaning and, the placement of charcoal or wood.
Cast iron cooking surface that ensures an uniform heat distribution with four sections, anti-adherent, that rise separately, enhancing the flavor and are easy to clean. Chimney. Grill to keep food warm. Airtight lid for greater heat control. Temperature gauge. Two wooden shelves (front and side), very practical, that allows a better management of the working space.
Manufacturer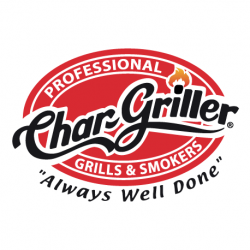 Headquartered in the United States in Georgia. All charcoal BBQS are made of heavy steel construction providing years of durability. All their barbecues are suitable for charcoal and firewood. Excellent quality and value for money! They promise your experience will be authentic. This is real grilling for real people. This is Char-Griller.