Michele De Lucchi was born on November 8, 1951 in Ferrara, Italy. He studied architecture in Florence and designed furniture for most Italian and European companies. He was one of the prominent architects in movements of the experimental period of architecture such as Cavart, Alchymia and Memphis.
De Lucchi collaborated on projects for the most varied international companies, from buildings, museums, banks, companies, to work environments and corporate image, introducing technical and aesthetic innovation in the organization of companies. His work was influenced by his interest in architecture, design, technology and crafts.
The Italian architect was also appointed Officer of the Italian Republic for design and architecture services, Professor at the Design Faculty of the Politecnico of Milan and Member of the Accademia Nazionale di San Luca in Rome.
Part of his portfolio was the collaboration with the Italian brand Alessi, where emerge some kitchenware that expresses the minimalist style of Michele De Lucchi. An example of this style is the Plissé Collection, which combines functionality with stunning design and reveals the influence of crafts and sculpture on the Italian architect's career. An iconic shape collection, specially chosen for its cheerful and festive spirit. The Collection has an Electric Kettle, an Electric Squeezer, a Toaster, a Blender and a Hand Blender with or without accessories, and is available in black, grey, red and white.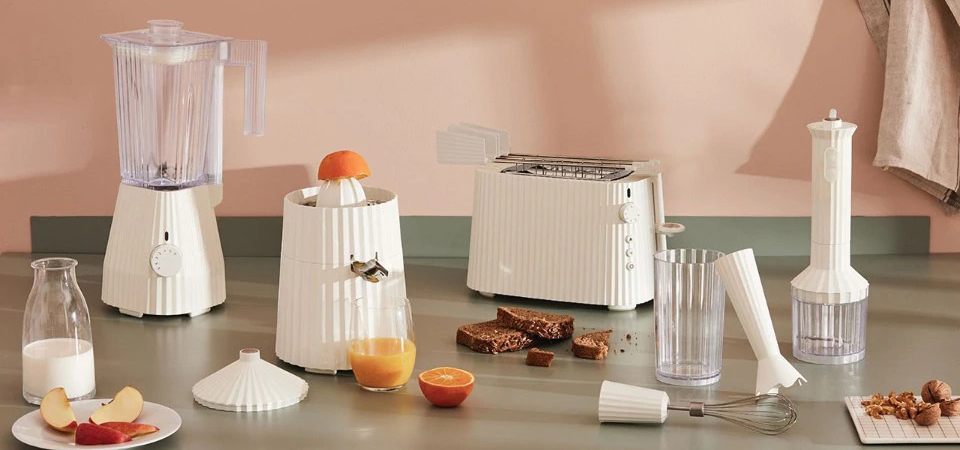 In addition to the Plissé Collection, another iconic object designed by De Lucchi is the Espresso Coffee Maker - Pulcina. A revolutionary coffee maker that combines technology and design, projected to improve the tasting for coffee lovers, as it allows you to obtain the best coffee, eliminating the bitter taste that appears at the end of the process.
Find all Michele De Lucchi pieces at our store!
Let yourself be inspired!