The third Saturday of May is the world whisky day, where "water of life" lovers gather to enjoy this drink, ideally in good company and of course, with moderation. This is one of the best ways to celebrate this world-famous and much-appreciated drink.
Whisky is a result of malt fermentation. There are 4 main differences between the various types of whisky: the grain, the production process, the manufacturing origin and the maturation time.
Whisky tasting is about sensory analysis. Experts talk about the "eye" to describe the color, the "nose" when inhaling the aromas and the bouquet, the taste "mouth". Last but not least, the "end" for the indescribable flavor that remains in our mouth after tasting it.
The traditional way of drinking is in its pure state. For this reason, we strongly suggest you taste your whisky in our Whisky Tasting Set from Peugeot Saveurs.
The whisky glass is specially designed to highlight the flavours of whiskies. It has the perfect shape to release all the aromas for a pleasurable tasting. The ideal filling level should not cover the central dome so you can have an excellent tasting. The metal holder allows you to refresh the product without the need for ice. If you leave it several hours in the freezer, you can keep the drink fresh for at least 30 minutes, without tampering it.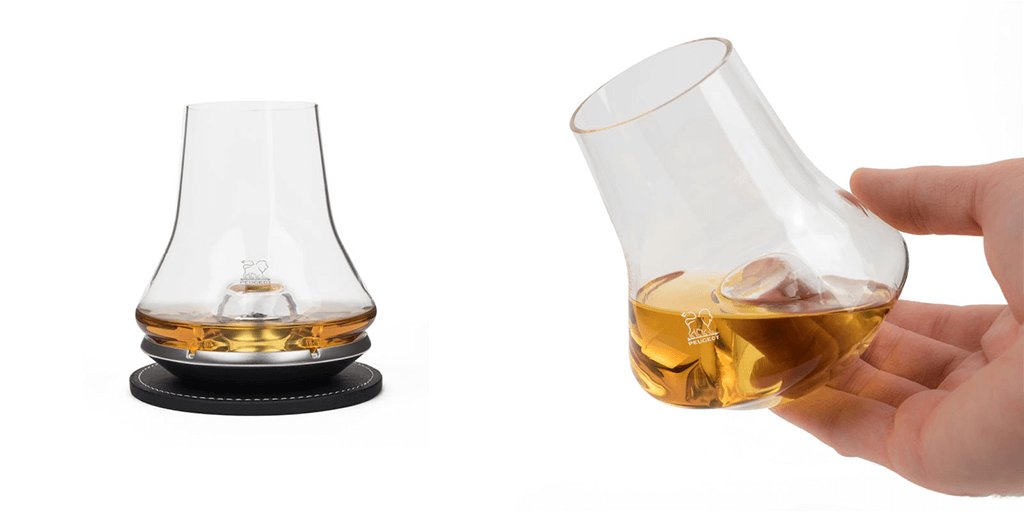 If you don't appreciate fresh drinks, you can choose just the glass. Its large shape reveals all the whiskies subtleties for greater pleasure when tasting, eliminating the powerful and aggressive odors linked to the presence of alcohol.
However, whisky can be drunk in different ways. Some people mix it with other drinks, like water or carbonated drinks. When you pour a little water, the drink's taste is released, and the intensity of the alcohol decreases. Instead of water, some people prefer to add ice as well. If this is your case, and you prefer your whisky with ice stones, check out our suggestions for Ice Buckets and Tongs and enjoy the World Whisky Day in the best possible way!
Unique experiences
Let yourself be inspired!