More info
- The perfect adherence to the face of the soft rubber gasket ensures high insulation from the surrounding environment. It protects the face from contact with the hands. It can also be worn with glasses thanks to the shape and anti-fog system of the lenses. - The gasket in contact with the face and the straps are made of a particular medical and biocompatible thermoplastic rubber, according to ISO EN 10993-5 (Cytotoxicity) and EN 10993-10 (Sensitization test / Kligman Maximization test). - Sanitize:
By hand in hot water with common detergent.
In microwave with steam sterilization bags (3 min - 800/900 W).
Dishwasher - cycle at 70°C.
Cold with the use of special liquid disinfectants or effervescent tablets.
Manufacturer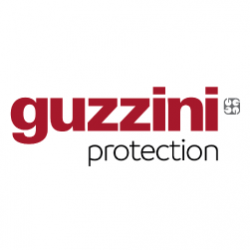 Discover the latest and most revolutionary product of the Guzzini Protection brand is Eco-Mask. A unisex, elegant, functional, and above all ecological mask! With filtering power greater than 95%, it includes 4 filters and a bag to comfortably store your mask.
It is CE certified as a Class 1 Medical Device (non-sterile), according to the European Standard EN 14683 - ISO 10993 and the European Regulation 745/2017.