Back to school is approaching and the question that arises is how can you protect yourself and your children effectively, comfortably and without spending a lot on disposable, personal protection solutions and with a strong impact on the environment.
The protective mask is today an essential element in post-confinement reality and has become one object of mandatory use to "access or stay in spaces, commercial establishments and services in public buildings and in educational establishments and kindergarten by teaching and non-teaching staff and students over 10 years old". The same age limit was also referred to "the use of public passenger transport" (Decreto de Lei n.º20/2020).
It is with the concepts of protection, reuse and ecology in mind that we present the line of kids' protection masks "OntheGo protection" by the Italian brandGuzzini. Guzzini's Eco-Mask, also available for adults, is a personal protective equipment, reusable, made with innovative plastic materials, antibacterial, antiviral and easy to wash.
With an anatomical shape easily adjustable to the shape of children's' face, the Eco-Mask is very light (only 30 grams) andis, also, composed by a waterproof multilayer filter,for daily use (8 hours), capable of drastically reduce viral and bacterial load (filtering power higher than 95%).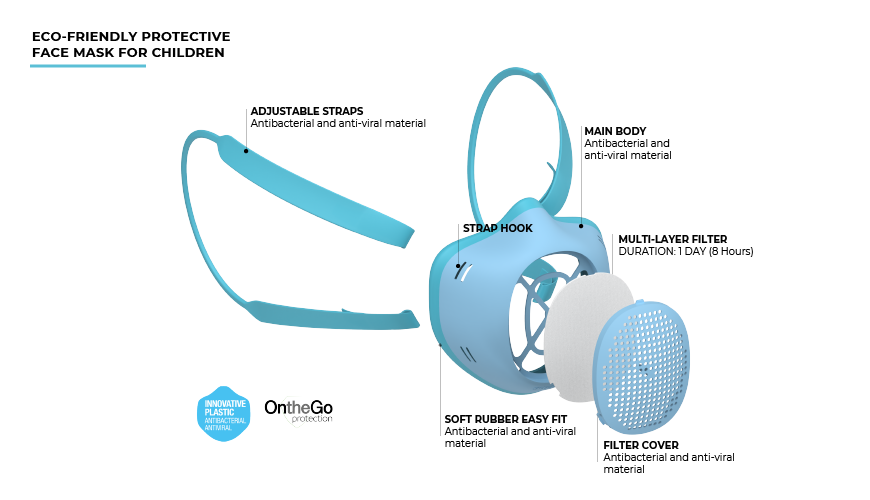 Eco-Mask can be used with elastic straps (in medical and biocompatible thermoplastic rubber), attached to the head or to the ears. Thanks to its anti-fog system, it can also be comfortably used by children that wear glasses.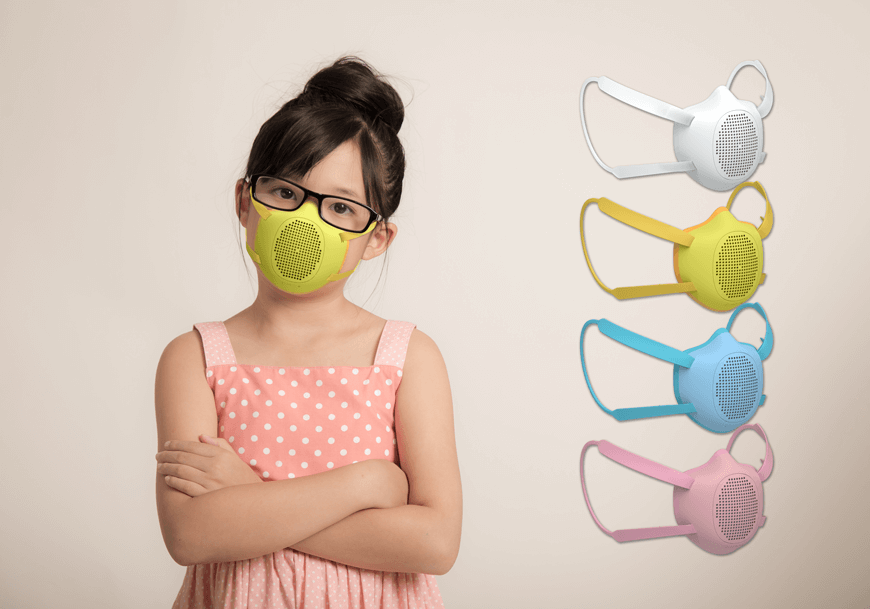 More than a protective equipment, Eco-Mask is an environmentally friendly protection accessory, as it can be used indefinitely, thanks to its durable plastic materials, easily sterilized and the filter (non-washable) is easily removed and replaced (sold separately).
The sanitization of the Eco-Mask can be done:
Hand wash, in hot water, with common detergent and sanitizing all parts, inside and out, just gently cleaning with a damp cloth soaked in a disinfectant solution;
in the dishwasher, with a program at 70º;
in microwaves, with a steam sterilization bag, during 3 min - 800/900 W*;
cold, with liquid or effervescent disinfectant*;
Eco-Mask is certified as a medical device Class I - Type 1, according to EN 14683 – ISO 10993 (EU Regulation n.º 745/2017) and is sold in kits that include: a mask (available in white, blue, pink or yellow) and four filters kids/teen. Additional filters are sold in sets of 14 filters.
Protect yourself to protect the others!
* Does not dispense consulting the manufacturer's instructions