More info
With the fine blade for example, zest citrus peel quickly and efficiently and finely grate cheese, ginger, nuts, garlic, nutmeg, and spices. With the coarse blade effortlessly grate carrots, cheese, ginger, garlic and much more. The ribbon blade is ideal for chocolate, onions, zucchini, apples, cheese, potatoes, carrots and more. With the large shaver simply shave bars of chocolate, hard cheeses, cucumber, truffles and other ingredients. And with the ultra-coarse blade is ideal for ingredients requiring a larger grating surface such as cabbage, zucchini, potatoes, apples REF:
For added convenience, a removable bottom tray both catches grated ingredients and is useful to add them directly to the pan or mixing bowl. It also features a clear window on the sides with measurement markings up to 600ml. A non-slip handle and rubber foot guarantees a secure hold when grating and ensures maximum comfort.
Manufacturer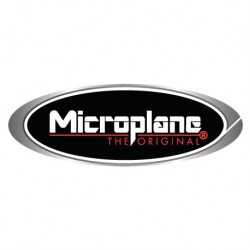 Microplane is the brand of the best graters in the world and its history is quite peculiar. Thanks to a curious Canadian housewife who was making an orange cake and discovered that her husband's favorite woodworking tools was the best grater she had ever tasted, it produced the finest and most effortless orange zest. The discovery laid the foundations for the success of the Microplane. An indispensable utensil for amateur cooks and professional kitchen lovers!